Teacher's Corner
Mount St. Helens National Volcanic Monument was established, in part, to promote environmental and science education.
Each year, over 10,000 students travel to Mount St. Helens to see the dramatic effects of the 1980 volcanic eruption, and observe how plants and animals have responded.
Visit the Volcano!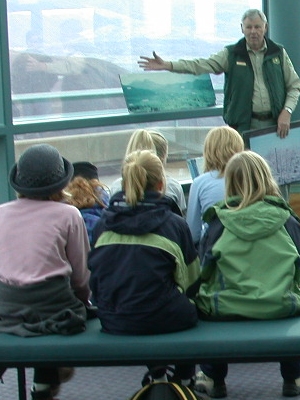 Some groups travel to Johnston Ridge Observatory on Washington State Route 504 from the west side of the Monument.
Other schools visit attractions on the Monument's south and east sides, including: Lahar Viewpoint, Ape Cave, Trail of Two Forests, and Windy Ridge. All of these areas offer different educational opportunities and experiences.
Travel alert for schools coming from the north or west:  Currently there is no access to Ape Cave from Woodland on SR 503.  Access will be through Amboy.  Check out http://www.wsdot.com/traffic/trafficalerts/
HIGH IMPACT
SR 503 Both Directions
– Monday, March 13 until further notice: Both directions of SR 503 are closed west of Speelyai Bay Road due to a debris slide. There is no estimated time for reopening the highway. Drivers should continue to avoid this area and use alternate routes. Last Updated: 3/23/2017 10:28 AM
From milepost 34 to milepost 37
School groups visit May through June and September through October, when field trip sites are accessible.  For more information on school visit dates and available programs, please visit the School Visit Details page.
Follow the instructions below to register your school group.
Step 1: Select the area of the Volcano you wish to visit
Step 2: Check Registration Calendar For Availability