Ranger Led Programs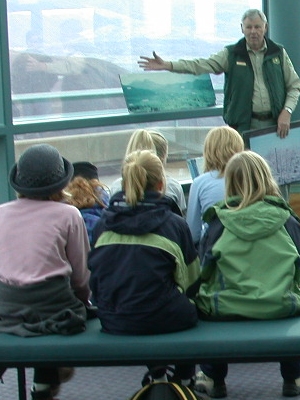 Ranger-guided interpretive programs for school groups are available by reservation at Johnston Ridge Observatory and Ape Cave.
Most programs are geared towards Middle School-aged students.  Advance and confirmed reservations are required!
Limit 2 scheduled programs per school, first registered, first served.
Johnston Ridge Observatory Programs

Program Offered

Eruption Talk (20-30 minutes):  Join a ranger to explore the geologic processes that build up and tear apart volcanoes. Students will discover evidence of three powerful events from the May 18, 1980 eruption. Your students will discover the largest landslide in recorded human history, the lateral blast that blew down 230 square miles of forestland, and searing flows of pumice that poured down into the Toutle River.  Students will also have the opportunity to learn about the 1980-1986 and 2004-2008 lava dome building eruptions.

Rock Identification Activity (50-minutes):  This hands-on activity is designed for groups of 30 students or less.  Size limit is strictly enforced.  Students discover eruptive stories told by volcanic rocks as they identify intrusive and extrusive igneous rock samples by color, texture, or crystal type.

Teachers must download the pre-visit instructional sequence and student worksheets that are required to conduct this activity with the ranger.
Teachers must also print off the appropriate number of student worksheets for your group–worksheets are not provided by the rangers at Johnston Ridge.

Elementary School Rock Identification
Middle School Rock Identification
High School Rock Identification
High School Instructional Sequence

Dates / Times

Monday – Friday

September 23 thru Oct 11, 2019

May 20 thru June 12, 2020

10:00am – 11:00am
11:00am – 12:00pm
12:00pm – 1:00pm
Tardy groups forfeit program time!

Other offerings

Public programs are offered at 10 minutes after each hour, 1:10p, 2:10p etc..  We welcome school groups participation in these regularly scheduled talks.

Teacher Responsibilities

Chaperones and teachers must remain with their groups and attend all programs. The ranger is there to teach and lead the activities. Chaperones and teachers are responsible for:

Ensuring that students behave in a respectful manner towards the ranger and other visitors;
Making sure that students do not damage exhibits or facilities;
Ensuring that students stay on the trails and on pavement at all times;
Helping students complete their assignments; and,
Making sure students don't damage or remove resources, such as plants and rocks.

Mount St. Helens National Volcanic Monument is a federally protected educational, research and scientific site. Penalties for damaging this resource and/or removing plants, rocks and other artifacts may range up to a $5,000 fine and/or six months in jail.
 Ape Cave Programs

 

Rangers aim to provide a brief introduction to ALL groups to talk about the cave, the rules, and white nose syndrome.  The following additional options are available dependent on group size:

for groups of 40 or less, guided tour of the lower cave (1 to 1 1/2 hours)
for groups up to 50, an introduction and one educational stop soon after entering the cave, leaving you to explore the rest on your own
for groups over 50, introduction only.

Dates / Times

Monday – Friday
September 23 thru October 11, 2019  

Suggested tour times are 10:00am and 12:15pm.  After reserving a start time a ranger will contact you and work with you to meet your needs.

Other

Contact a ranger for any other needs, questions, or requests.  The seasonal environmental education rangers usually begin work in mid-April and can provide more assistance at that time.  For assistance earlier in the season, please contact Kristine Cochrane at kcochrane@fs.fed.us or 360-274-2117.